(From Wikipedia, the free encyclopedia)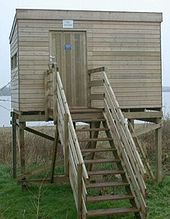 The 'Gazebo' hide at the
West Midland Bird Club
's
Belvide Reservoir reserve
.
A
bird hide
(or hide) is a shelter, often
camouflaged
, that is used to observe
wildlife
, especially birds, at close quarters. Although hides were once built chiefly as a
hunting
aids, they are now commonly found in
parks
and
wetlands
for the use of
bird watchers
,
ornithologists
and other observers who do not want to disturb wildlife as it is being observed.
A typical bird hide resembles a
garden shed
, with small openings, shutters, or windows built into at least one side to enable observation.

Variant types of bird hide include: